Click on any of the images below to view the model in a 3D viewer.
The LiDAR data comes from the Lle Geo-Portal ( direct link to on-line data browser ) and is licenced under the Open Government Licence for public sector information.
The STRM data and the Landsat data comes from the U.S. Geological Survey portal and has no restrictions on its reuse. The overlaid GPS tracks were generated by me.
Note that the 3D viewer uses the software from the 3D Heritage Online Presenter ( 3DHOP ). A WebGL capable browser and graphics card will be needed. Check your setup here
Llyn y Fan Fach ( OS ref SN 8021 )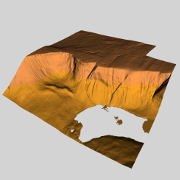 Composite STRM and Landsat Model of the Gower